Cooperation with other schools!
The Stuttgart Goalkeeping School – international cooperation
The Stuttgart Goalkeeping School have recently participated in one of the weekly trainings in the goalkeeping school GR8Keeping in London. (Please see the photos in our photo gallery).
Since junior goalkeepers from FC Arsenal, FC Chelsea and West Ham United also have their trainings with GR8Keeping, it was very interesting to compare them with our goalkeepers from Germany.
We would certainly like to continue and expand our cooperation. We have already received a positive feedback from the parents whose children train with the London Goalkeeping School. Therefore, it is very likely to expect goalkeepers from England to participate in our camps.
We are looking forward to this cooperation and we hope that Mr. Alex Cancar, the head coach GR8Keeping will soon visit us during our daily trainings or camps in Germany.
More info: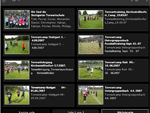 Photogallery, Goalkeeping training in London